About QAW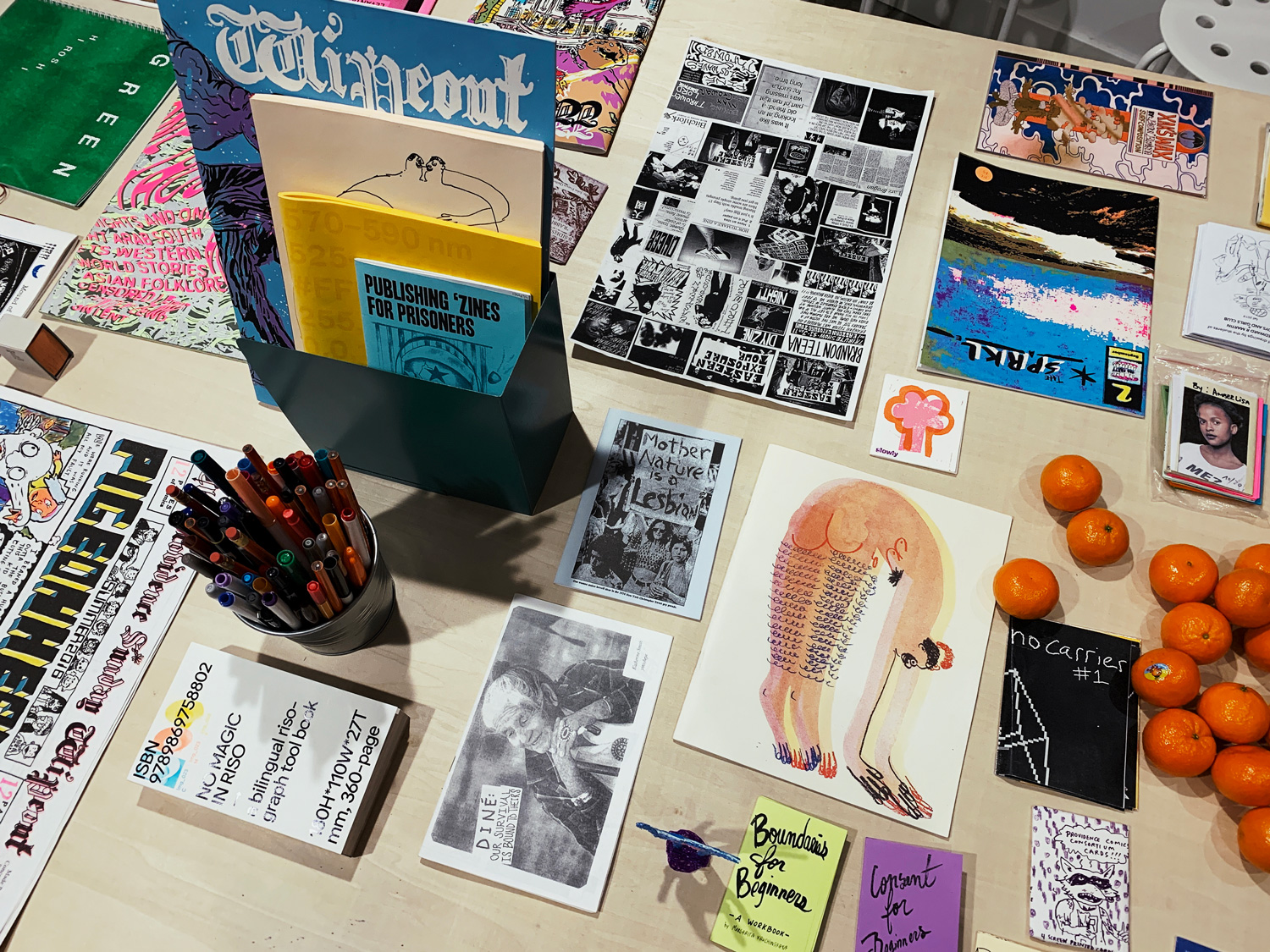 Mission

Queer.Archive.Work, Inc. (QAW) is a nonprofit 501(c)(3) reading room, publishing studio, and project space serving Providence, RI and beyond.

QAW was incorporated in the State of Rhode Island on March 2, 2020 to support artists and writers with free, open access to space and resources for experimental publishing, with a special focus on queer practices. QAW includes a non-circulating library of books, zines, objects, and downloadable files, a risograph printer, project installation space, and digital meeting spaces. Programming includes Risograph Residencies, Open House Free Printing, Workshops, and weekly Queer Hangouts. QAW strives to be accountable, to center marginalized voices through intersectional work, and to cultivate anti-racist, safe platforms for independent, queer publishing.
In solidarity

QAW stands in solidarity with Black Lives Matter and the movement towards justice for all Black people. QAW supports defunding and abolishing the police, the military, ICE, and prisons, and doing the difficult work required to dismantle white supremacy at all scales, from individual to organizational, from community to national. For QAW, this means a particularly close examination of whiteness and how it continues to operate within art, design, and educational institutions and organizations, especially as one of the core intersecting forces of oppression defined as the matrix of domination.
Anti-racism

QAW prioritizes anti-racism in our mission and in all that we do. As an organization founded by a white cis man, with two non-black POC board members, QAW benefits from a wide set of intersecting privileges. We are a new organization, and acknowledge the crucial work of de-centering whiteness in our space, and we actively prioritize that work. Our mission fails without it. We strive to hold ourselves accountable for this work in all of our programming and decision-making as an organization, especially as it supports QTBIPOC artists and publishers who may benefit from our space.
Our commitments

To maintain programming and resources that are always free to use; To maintain a safe space for experimental publishing, free from unnecessary judgement and expectations, and to make it available for all anti-racists, particularly artists, writers, organizers, students, activists, and educators, and especially for those who are QTBIPOC; To support the work of QTBIPOC artists, writers, and small presses by acquiring their work for our growing library of experimental publishing, and to maintain free access to the collection for reference, research, and inspiration for all QAW visitors; To maintain our risograph printer and supplies and make them available for free printing for anti-racist art, organizing, and activism (when not in use by QAW artists-in-residence); To assemble majority BIPOC review teams when determining access to artist's residencies and other QAW programming, and to always include local, community-based artist representation on these teams; To acknowledge and keep visible the specific advantages benefitting QAW as a settler institution occupying the traditional homelands of the Narragansett and Wampanoag peoples, and that this acknowledgement only functions as a first step towards greater decolonial efforts; To acknowledge and keep visible the specific advantages benefitting QAW as a tenant within a real estate development that actively contributes to gentrification on the west side of Providence, RI; To acknowledge and keep visible the privileges benefitting QAW as an organization founded and directed by a white, queer, cis male artist, with two non-black POC directors, and our combined majority-white institutional affiliations; To put these advantages and privileges to work for the benefit of QTBIPOC artists and publishers; To learn how to better support our community of QTBIPOC artists and publishers, and to prioritize access for those who are most underserved and impacted by the matrix of domination.

QAW Board of directors
Paul Soulellis, founder David Kim Sheida Soleimani
QAW 2020/21 residency review team
Edwige Charlot Nora Khan David Kim Paul Soulellis