Current members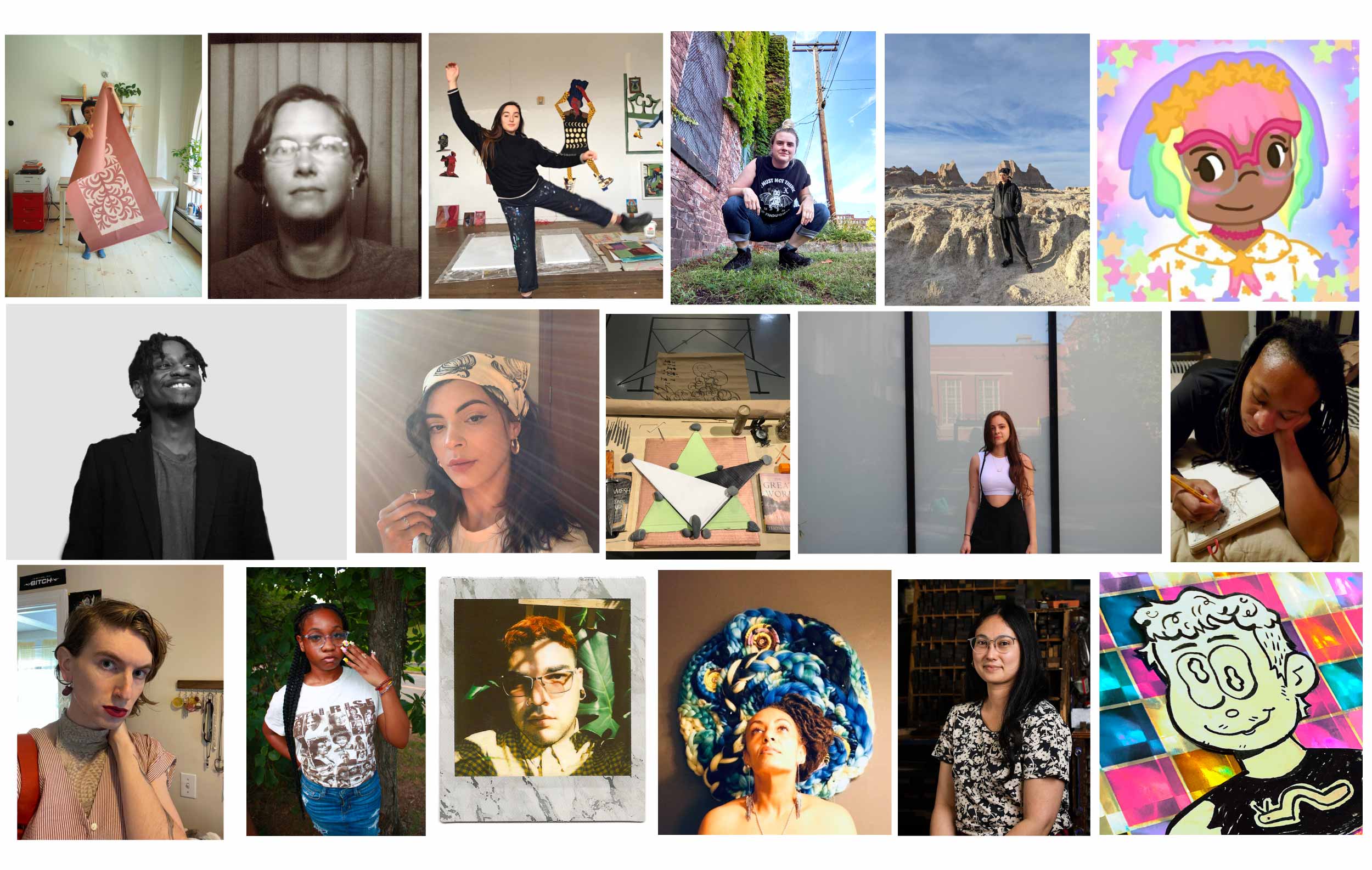 Earlier this year we welcomed 17 new members to the Binch/QAW studio! They joined 15
residents
and 8 Binch/QAW
organizers
, sharing access to all of our studio equipment, tools, library, and support. We announced the open call last fall so we could increase usage of the studio, inviting local artists to apply. The review team selected a cohort with a wide range of technical skills (from novice to expert), needs, interests, and practices (artists, designers, writers, librarians, printmakers, organizers, activists, and more). As our capabilities expand, our goal is to create even more ways to participate (free, paying, and paid) and grow a queer, cooperative studio community that maintains a thriving work space through shared commitments and communal responsibilities. Studio members pay a monthly, pay-what-you-can fee (which goes directly to our rent) and contribute time towards studio maintenance, in exchange for keys and 24/7 access.
Aisha Jandosova
Beatrice McGeoch
Carmen Ribaudo
Cathy G. Johnson
Felicita
Filipa Estrela
Garty Bless Bartuah
Grechel Rosado
Hyperion Çaca Yvaire
Iyana Martin Diaz
Janaya Kizzie
Jules Zuckerberg
June June
Logan Shanks
Lois Harada
Nafis M. White
Zabi Alejandro
Do you want to work here? The next open call for membership will open on October 31, 2022 and applications will be due by November 30, 2022. We will post the link to the application as well as more info about the application process on Oct 31.
Other ways to participate
Visitors are welcome! The studio is open to the public during scheduled Open Studio Hours, typically every other Sunday, when no appointment is necessary—you can just drop in to browse the library, read, rest, hang out, and see what we're up to. Open Studio Hours are currently running through December 2022; check out the schedule on the QAW homepage.
QAW/Binch Studio Mission
The Binch/QAW shared studio space is in occupied Pokanoket, Narragansett, Wampanoag, and Nipmuc territory. The studio supports artists, printmakers, writers, and others who don't necessarily identify with these terms with shared space, tools, and techniques for queer, radical, and/or experimental printmaking and publishing. We center Queer / Trans People and Black / Indigenous / People of Color, especially those from Rhode Island. We work in solidarity with movements for social, environmental, and economic justice. We support the abolition of police, prisons, and white supremacy and our practices are done with these ideals in mind.
Where is the studio?
The Binch/Queer.Archive.Work studio is located at
400 Harris Ave, Unit F, Providence, RI 02909
. The studio is wheelchair-accessible and has a single-stall gender neutral bathroom. Binch & QAW lease the space in an owner-occupied building; we are in the second year of a 3-year lease that began in May 2021. We are one long block from a RIPTA 92 bus stop at Atwells & Valley. There is a parking lot next to the building and lots of street parking directly in front of the studio.
Resources
The Binch/QAW studio contains a wealth of print and publishing tools such as risograph, screenprinting, letterpress, digital printing, and bookbinding equipment (see full list below). We are also a collective with deep, shared technical knowledge and expertise.
Studio code of conduct
Posted in the studio and distributed for all studio residents, members, and visitors.
(PDF download)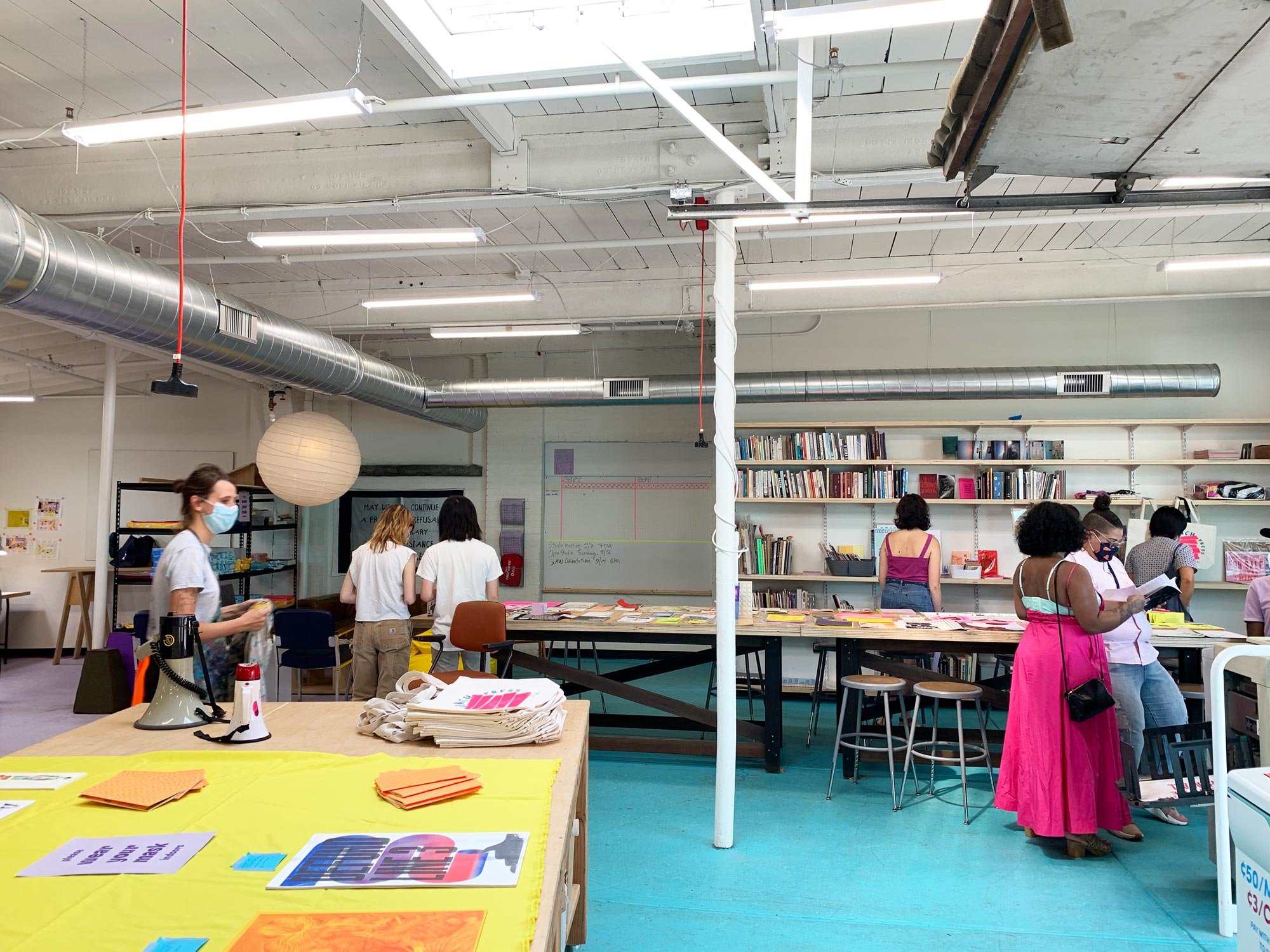 More photos of the studio
What equipment do we have?
Risograph
RISO SF9450 (11″x17″ Max Paper Size, 7 Colors:

Black

,

Teal

,

Purple

,

Fluorescent Pink

,

Aqua

,

Yellow

, and

Burgundy

)
RISO GR 3750 (11″x17″ Max Paper Size, 8 Colors:

Bright Red

,

Orange

,

Sunflower

,

Light Teal

,

Green

,

Blue

,

Violet

/, and

Black

)
RISO GR 1750 (8.5″x14″ Max Paper Size, 11 Colors:

Black

,

Burgundy

,

Fluorescent Pink

,

Bright Red

,

Sunflower

,

Yellow

,

Green

,

Light Teal

,

Cornflower

,

Blue

, and

Purple

)
Screen Printing
Screen Exposure Room and Screen Coating Dark Room
Violux 3002S Single Light Source Exposure Unit
64″x52″ Vacuum Table Frame (58"x46" max screen size)
Scoop coaters of various sizes
Lawson SBQ-501 Ultra-Fast Blue Textile Emulsion (pay per coated screen)
4′x6′ Cincinnati One-Arm Large Format Manual Screenprinting Press
4-Color T-Shirt Press
56″x47″ Spring Loaded Print Drying Rack
5′x10′ Repeat Printing Table with 5′x5′ Addon Table
4 Mobile, Hinged Screen Printing Boards
6′ Washout Sink and Filtration System
Ink Mixing Station
Squeegees of various sizes
Silkscreen storage
Digital Printing
Epson Stylus Pro 7800 24″ side plotter printer (primarily for printing Screen Printing Film Positives)
Ricoh Aficio SP C830DN 11″x17″ Color Laser Printer
HP Officejet 7612 11″x17″ Inkjet Printer/Scanner
Letterpress
Chandler and Price 10x15 Letterpress
Binding, Finishing, and Paper Prep
Eureka G.H. Sanborn 30″ Cast Iron, Manual Guillotine Paper Cutter
11″x17″ Cast Iron Book Press
Horizon BQ-140 Perfect Binder
Horizon SPF-10 and FC-10II Booklet Stitcher-Folder
CoilBind S20A Coil Binding Machine
31″x43″ Light Table
Dahle 442 Paper Cutter
6 Flat Files Cabinets
Corner Rounder
Various Saddle Staplers
Other Ameneties
The Queer.Archive.Work library of 800+ zines, books, prints, and objects for research and inspiration
Desks, tables, and chairs for working
(2) 4′x8′ work/meeting tables in the library
Lounge area
Slop sink
Projector and projector screen
Large garage door that opens the studio directly onto the street
Refrigerator, microwave, water boiler, and coffee maker
Single stall gender neutral restroom
Tool area
Binch/QAW organizers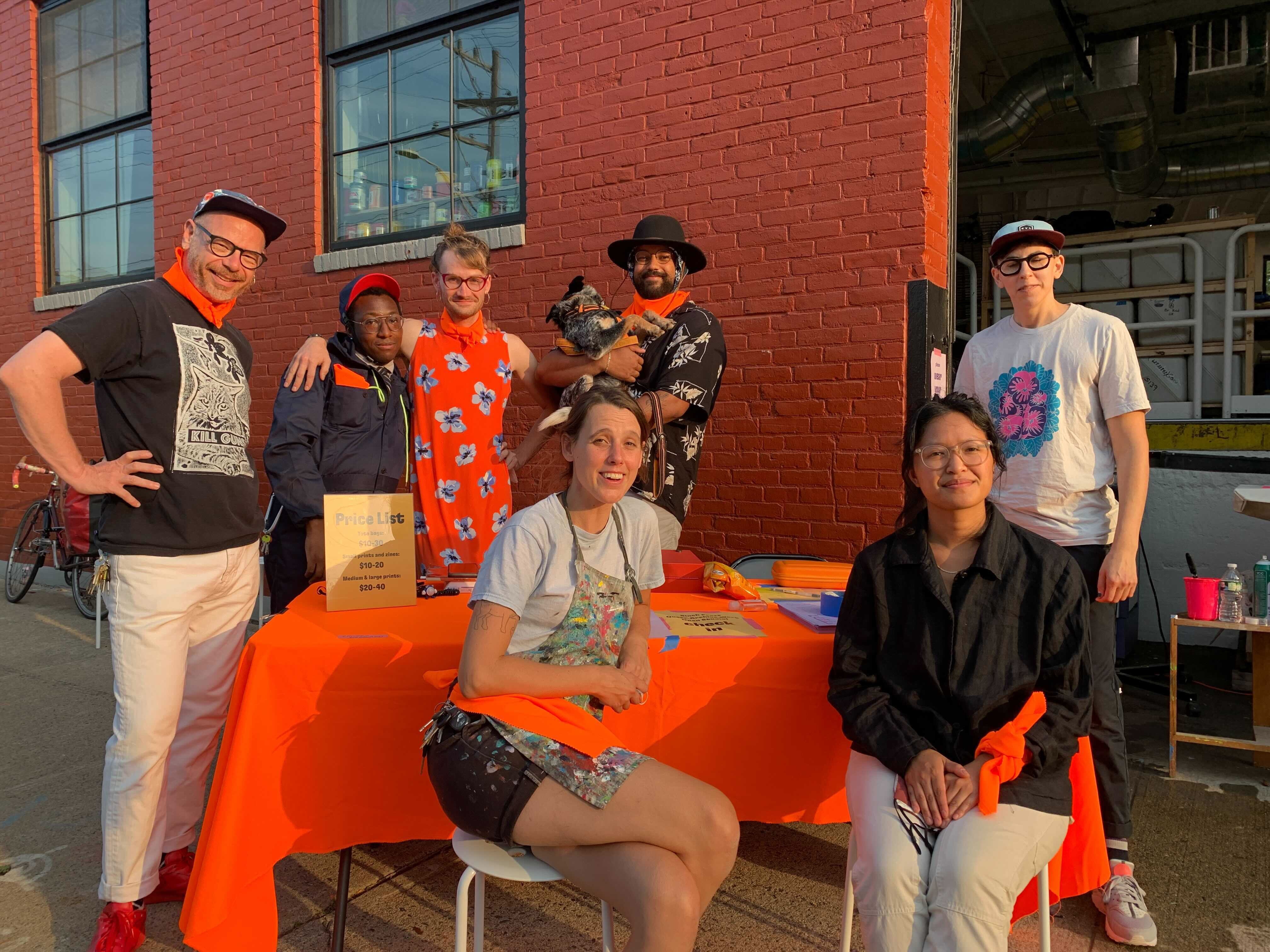 The Binch/QAW organizers at the studio grand opening—clockwise from left: Paul, Dailen, Tycho, Asaad, Penina, Dana, and Katie (not in the pic: Alice) September 12, 2021 (pic: Sheida Soleimani)
Alice Tam
Asaad Miller
Dailen Williams
Dana Heng
Katie Gui
Paul Soulellis
Penina Gal
Tycho Horan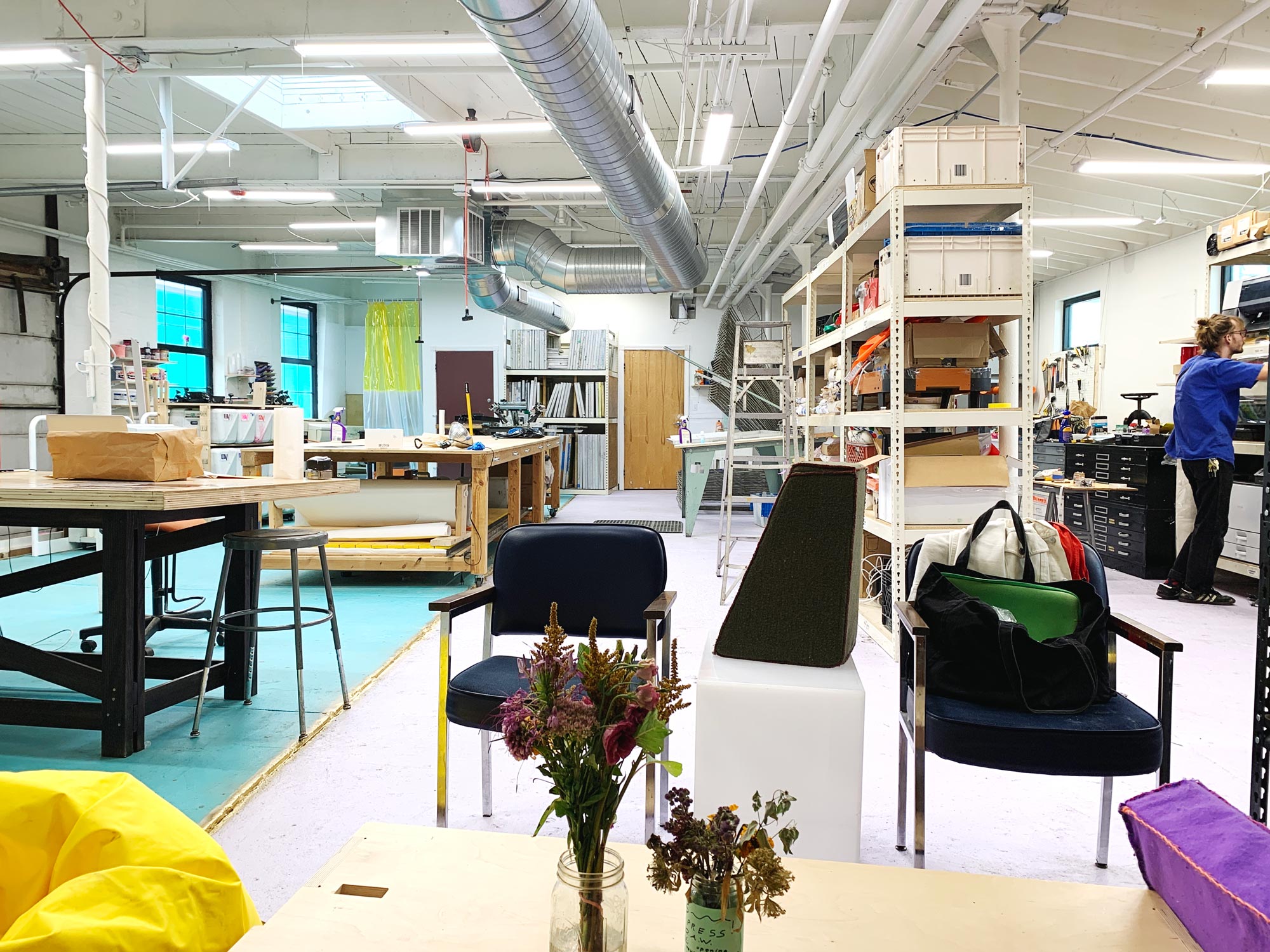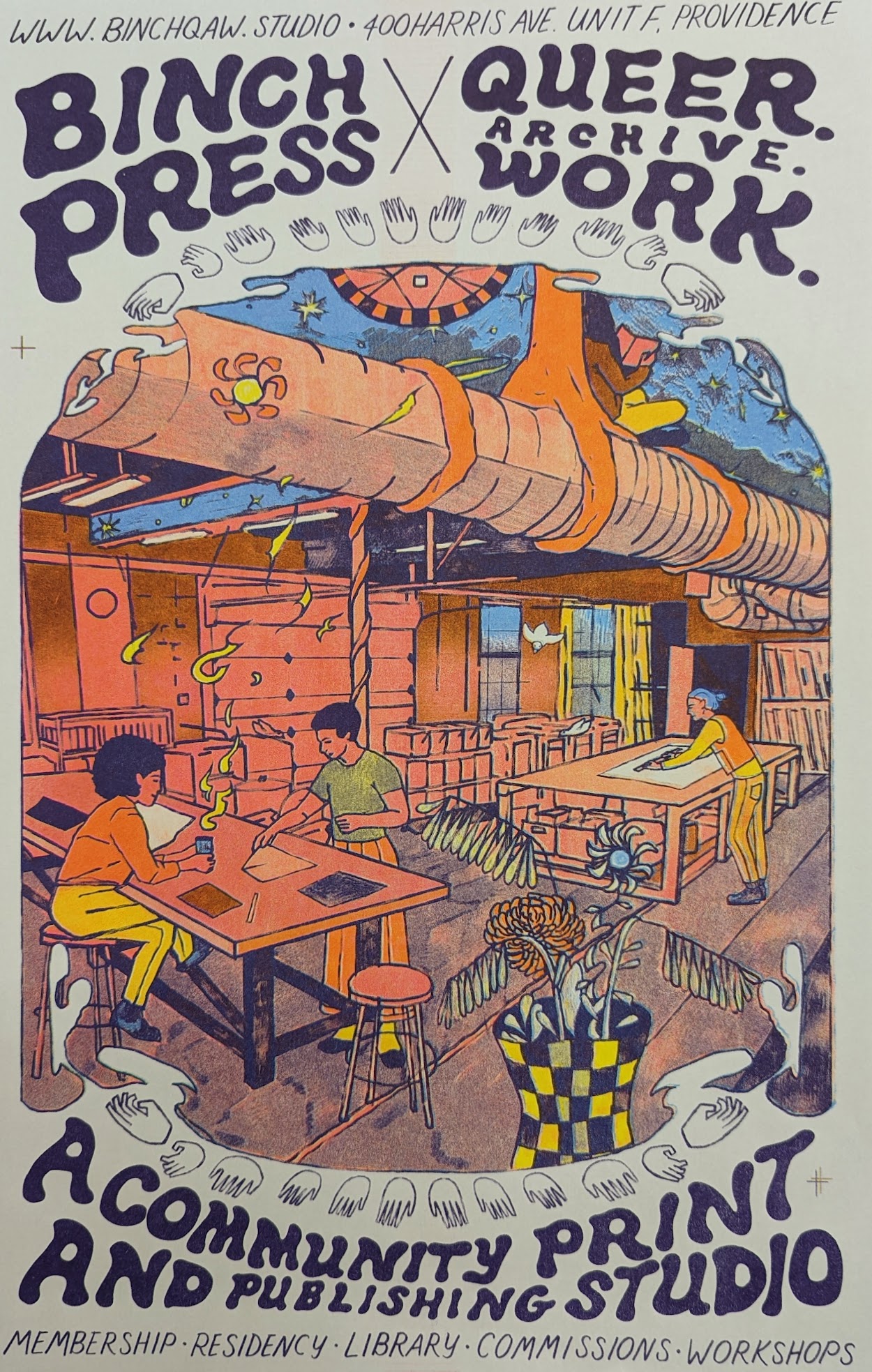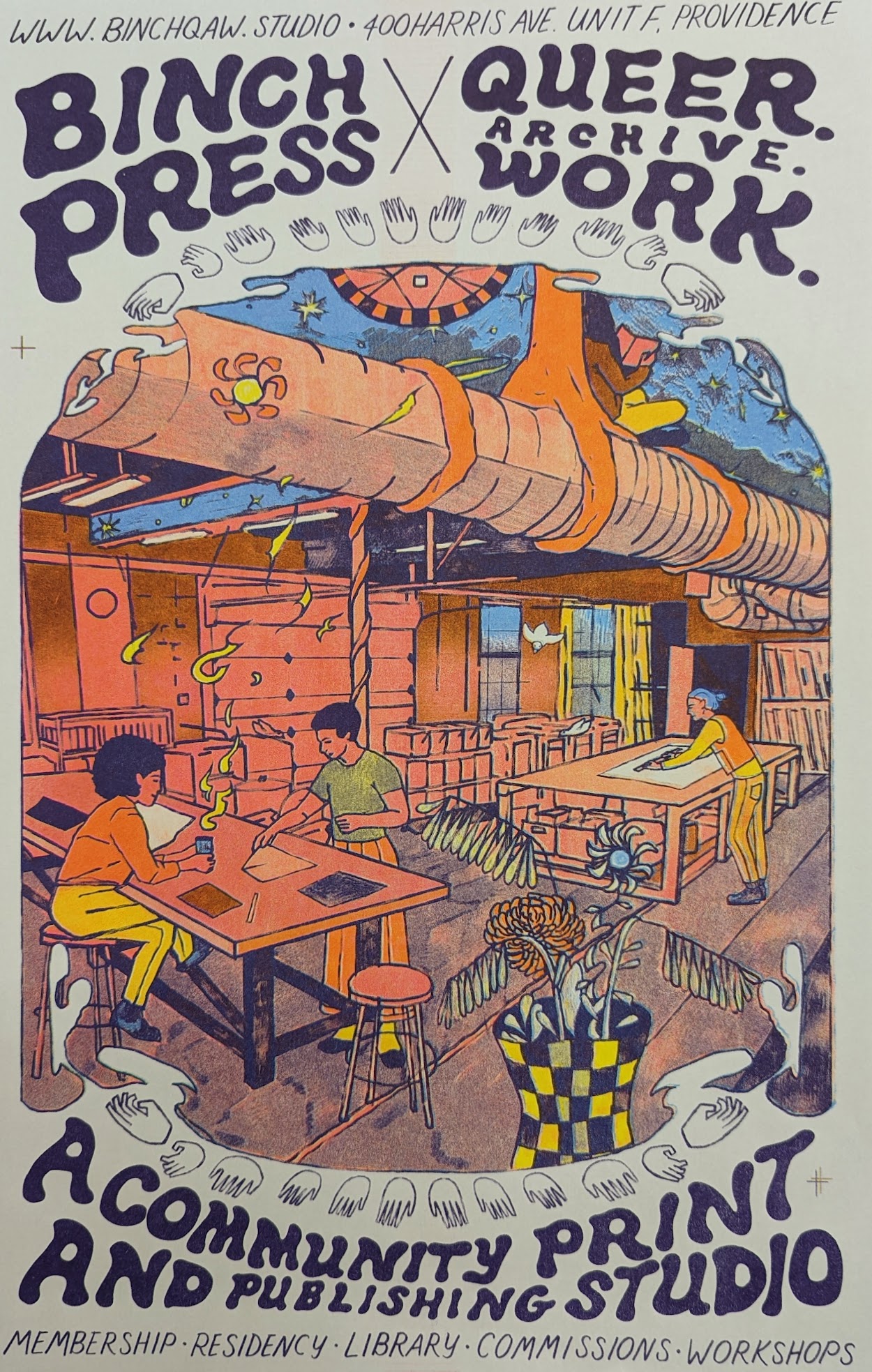 Poster by QAW resident Cai Diluvio, lettering by Dana Heng, printed here in the studio by Tycho Horan.